Huntington Homes was founded in 1987 by brothers Rob & Sheldon Swan to pursue their long-time passion for homebuilding.
Atypically, the brothers came from the corporate world, rather than the following traditional construction path. Both were well versed in customer driven companies. The brothers were convinced that in an industry, which lacked controls and consistency, and where clients had low expectations, that by relying on a meticulous approach to planning, rigid quality standards, strict cost controls, and computerized systems, they could deliver an outstanding product.
The Client
The brothers talk a lot about "the Client" as they describe their business, because their approach is customer-driven. "It's important that the client has the opportunity to be creative," says Sheldon. "We want to make building a new home the most pleasurable, rewarding process it can be." The extension of this became the company's ongoing development of its highly detailed signature building plans, and full-time in house design-team. Huntington views the plan as an exact representation of the home to be constructed, not as a rough guide, as is common in the industry.
The Quest for Quality is Ongoing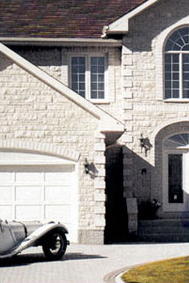 Huntington Homes working alongside its consulting engineers constantly analyzes, evaluates, and revises its specifications. This process was instrumental in the company becoming the first homebuilder in the country to standardize on such important structural elements as foundation pilings, engineered floor systems, steel beams, and structural basement floors, as well as a profusion of other major and minor improvements.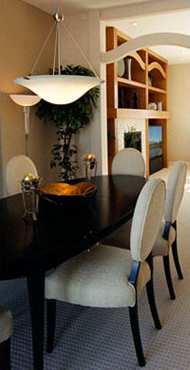 Advances weren't limited to the construction side of the business. Changes were implemented on the people and organizational side of the business as well. Huntington developed an exclusive system of working relationships with all of its sub-trades and suppliers, who came to be known as "Business Associates".  The advances the company made in this area ensured significant improvements in consistent quality, in every home. Explains Rob Swan, "Many builders use different trades and suppliers for each home. Their approach is to contract with the lowest bidder. With this system you never know who is working on your new home or what is being supplied." Each of the Huntington's Business Associates must earn and keep the company's business by doing quality work, as well as by being cost competitive.
Ultimately, a significant result of this tight management and detailed planning process is the ability of Huntington Homes to control construction costs. This, Huntington Homes maintains, is essential to stress-free building and vital to the satisfaction of clients intent on building the house of their dreams.
The Future
Today, Huntington Homes builds between 15 and 25 new homes a year, and continues to evolve and improve. As new technologies and techniques become available, the company goes to great lengths to evaluate their importance and effectiveness. The result is a process that is geared to regular improvements and advances.
Huntington takes pride in creating homes that are as beautiful to look at as they are comfortable to live in. Backed by over thiry years of experience, clients can rest assured that their new home will be a source of pride, satisfaction, and value for many years to come.