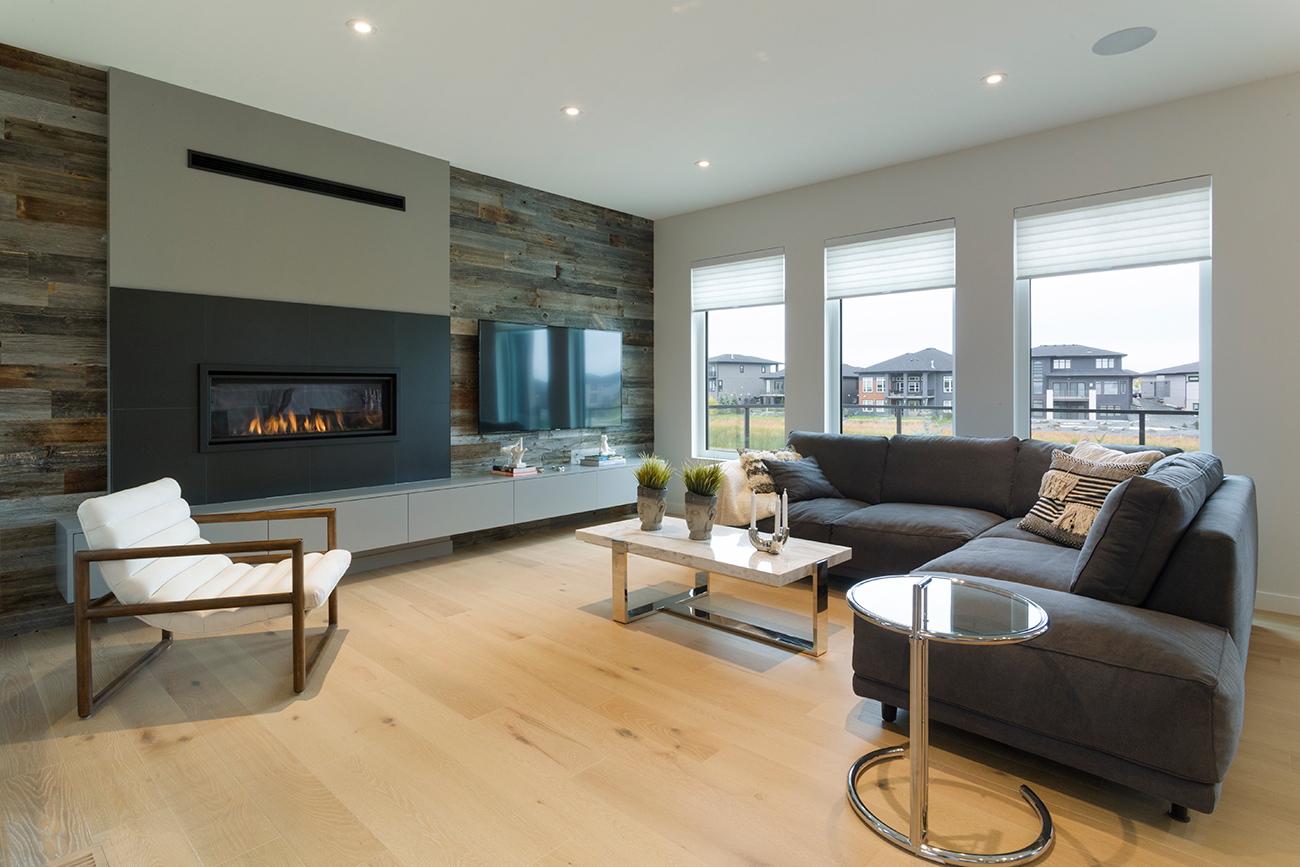 Practical Magic
Walkout Delivers Style and Substance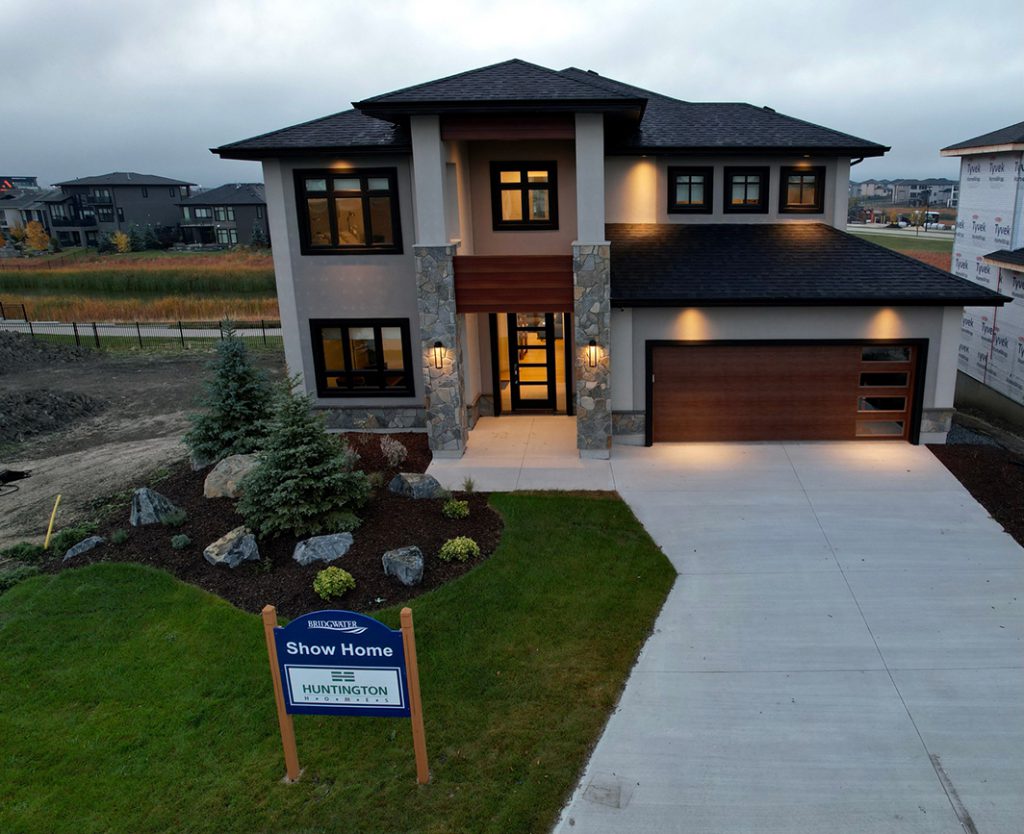 Thinking about Huntington Homes' two-storey walkout in Bridgwater Trails, the first word that comes to mind is "substantial."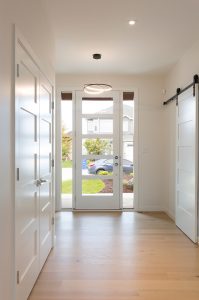 Every element of the house at 130 Willow Creek Rd. creates an impression of solid gravitas, from the stoneclad pillars that anchor the front porch to the burly bowl-shaped bathtub in the primary bedroom's gleaming en suite and the wall-to-wall entertainment centres in the great room and lower-level family room.
EVERY ELEMENT OF THE HOUSE AT 130 WILLOW CREEK ROAD CREATES AN IMPRESSION OF SOLID GRAVITAS.
The second word that comes to mind is "elegant." The kitchen's clean, minimalist vibe has maximum appeal, with a mix of horizontal rift oak cabinets and soft grey touch-latch uppers, miles of grey drawers down below and classically beautiful quartz countertops and backsplashes. A flat cooktop is neatly centered along the vast back wall and there are no visible drawer handles or cupboard latches to break up the sleek linear look.
Opposite the cooktop, the equally vast island pops with a grey-on-grey striped base, and graceful, flute-shaped pendants that complement the black sink and gooseneck faucet.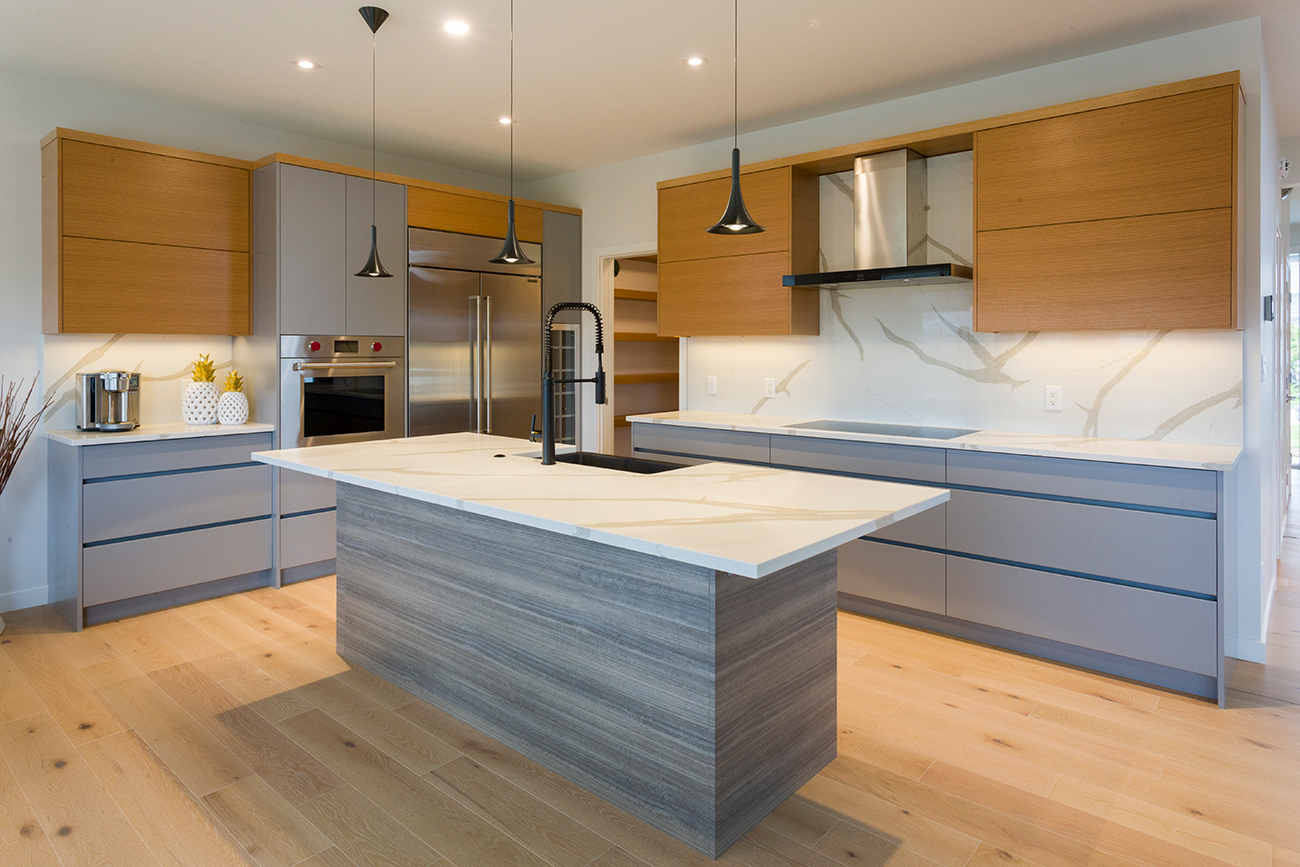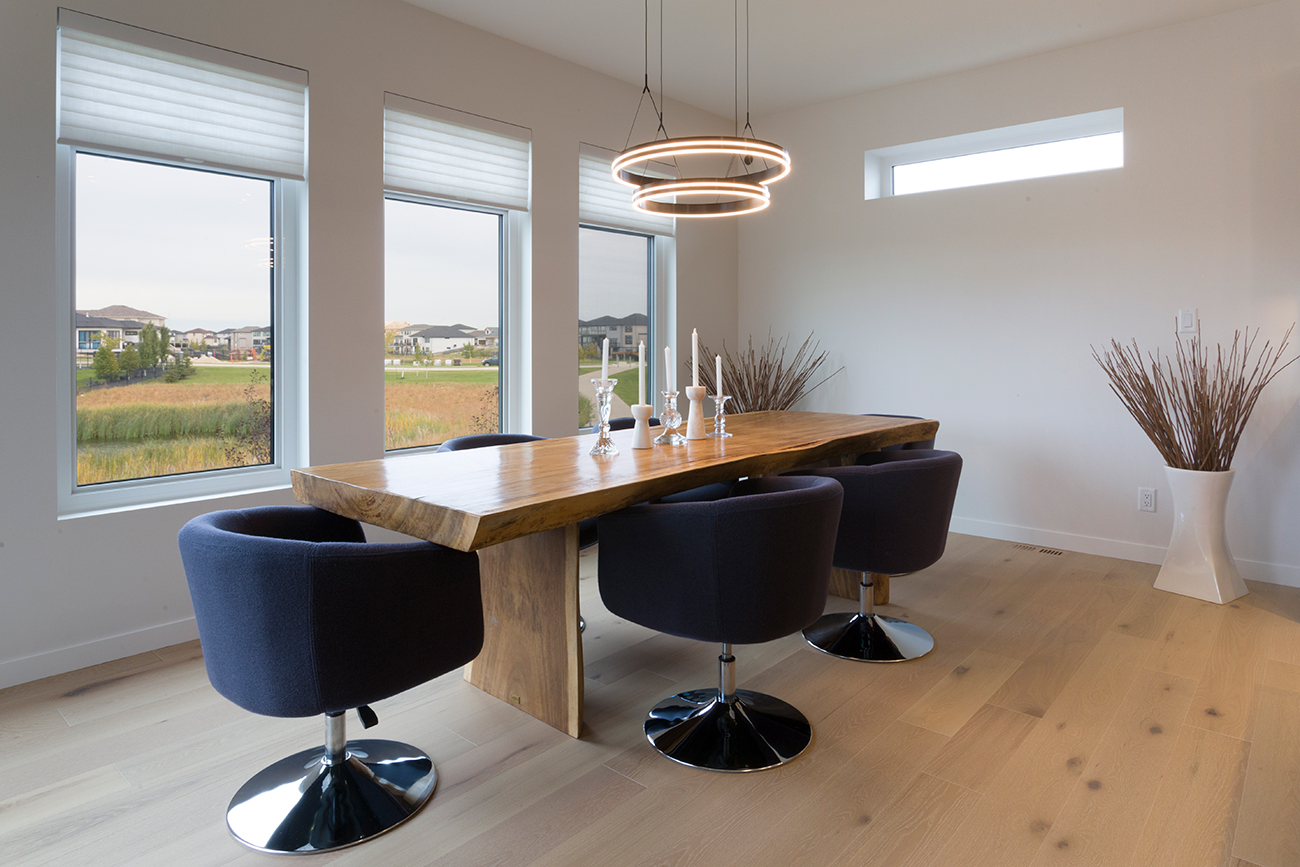 THE KITCHEN'S CLEAN, MINIMALIST VIBE HAS MAXIMUM APPEAL, WITH A MIX OF HORIZONTAL RIFT OAK CABINETS AND SOFT GREY TOUCH-LATCH UPPERS.
Most of the flooring is Mirage engineered hardwood in a natural tone, and just beyond the oversized fridge and built-in wine cabinet, the walk-through pantry has thick, solid-oak shelving, with pocket doors open to the kitchen and the mudroom.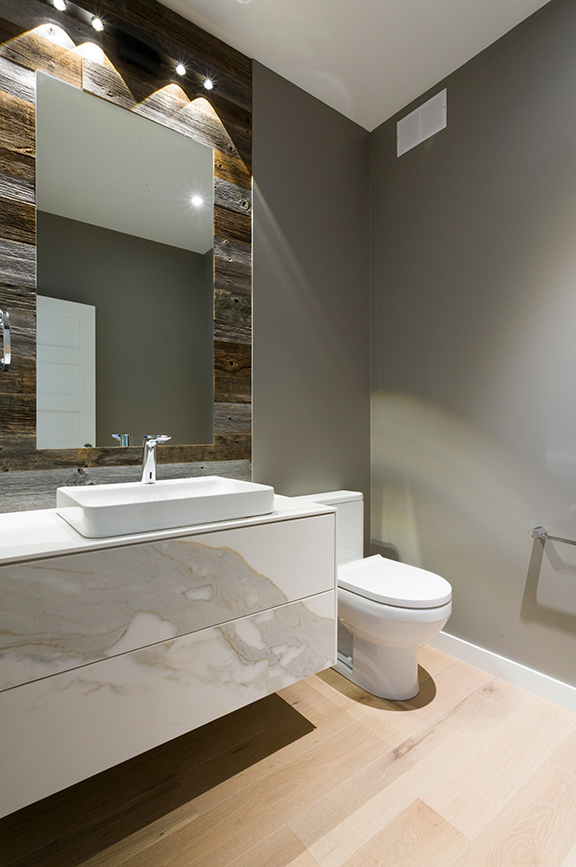 Rob Swan, who founded the company with his brother Sheldon 35 years ago, points out a handful of his favourite features, such as the "modern-rustic" barnwood that adorns walls in the primary bedroom and on the twin entertainment centres. Along with floating cabinets in soft grey, standout features in the entertainment units include wide black fireplace surrounds — another strong element that appears in a smaller scale on exterior window frames.
In a typical luxury show home, the same quartz countertops that were installed in the kitchen would reappear in bathrooms. In this home, Swan notes the material is a bit different in the primary en suite and powder room. It resembles quartz, but it's porcelain, in big slabs.
"Each section of it is one solid piece. That's something that's fairly new," he says.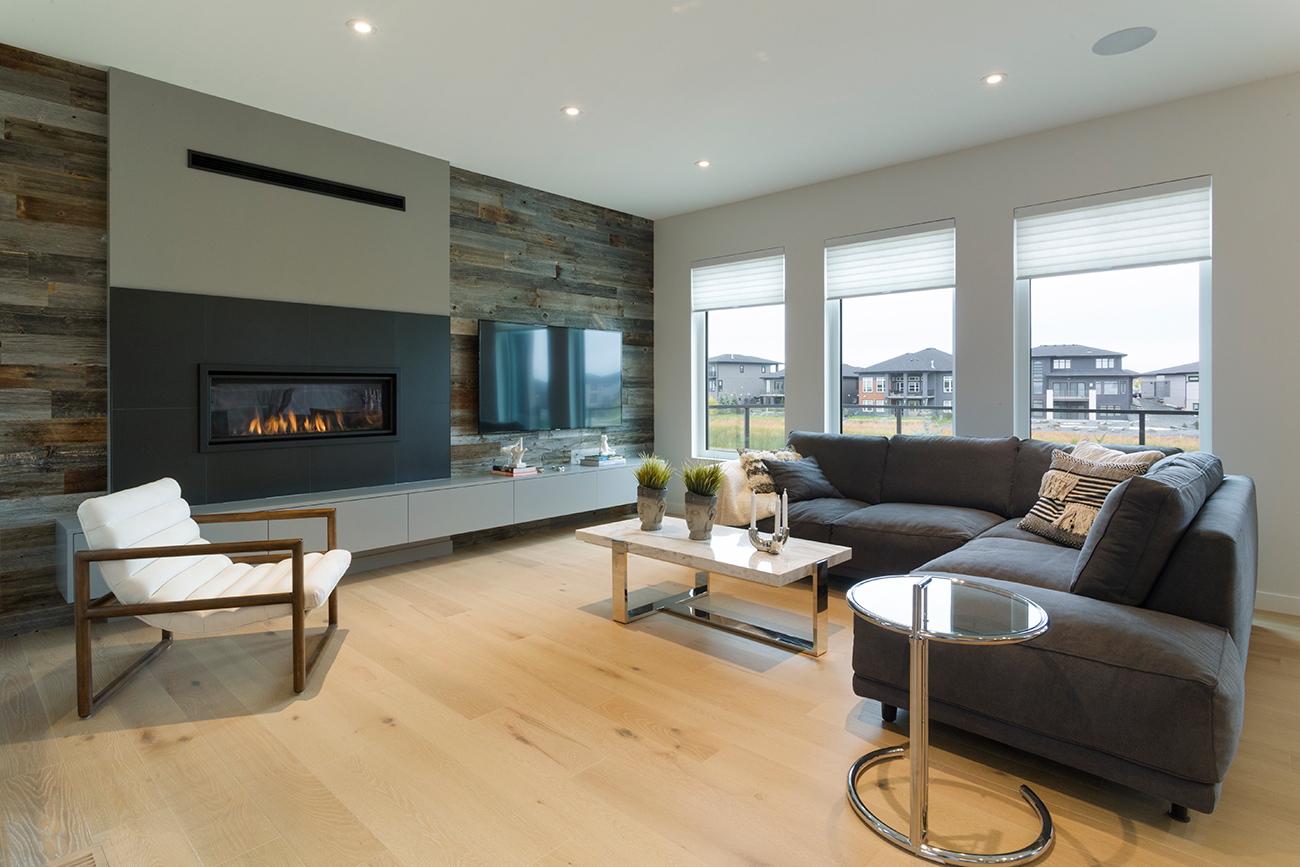 The beautifully appointed en suite also has a glass-enclosed custom-tiled shower that can accommodate two people quite comfortably, and there are dual sinks on the grey floating vanity. Naturally, there's also a roomy walk-in closet with custom cabinetry.
At more than 3,400 square feet, the four-bedroom home has lots of space for a growing family — or for a family that just wants to avoid overdosing on togetherness.
There's an office on the main floor, and a second-floor loft that can be used as an office, homework room or chill zone. And there's a gym space downstairs overlooking the backyard and man-made lake at the bottom of the property.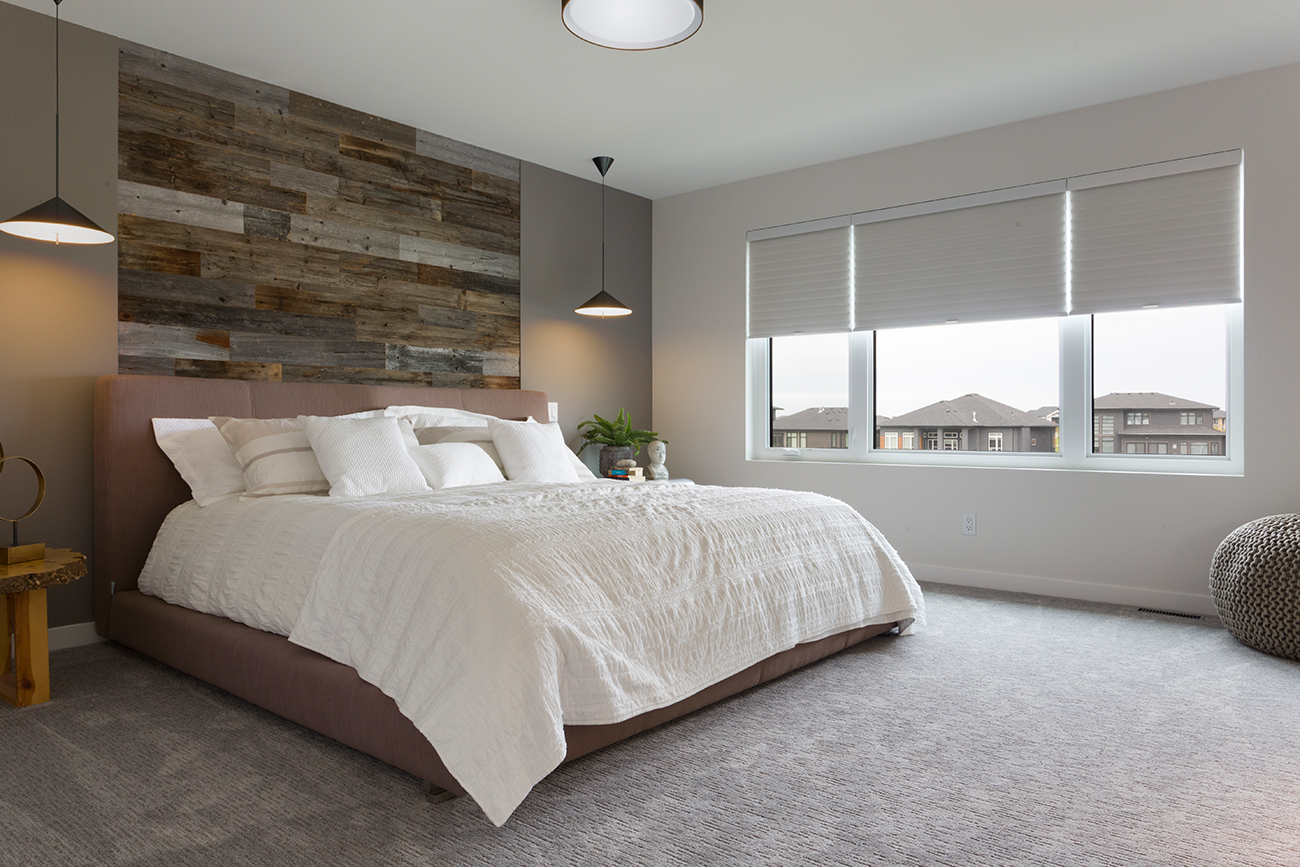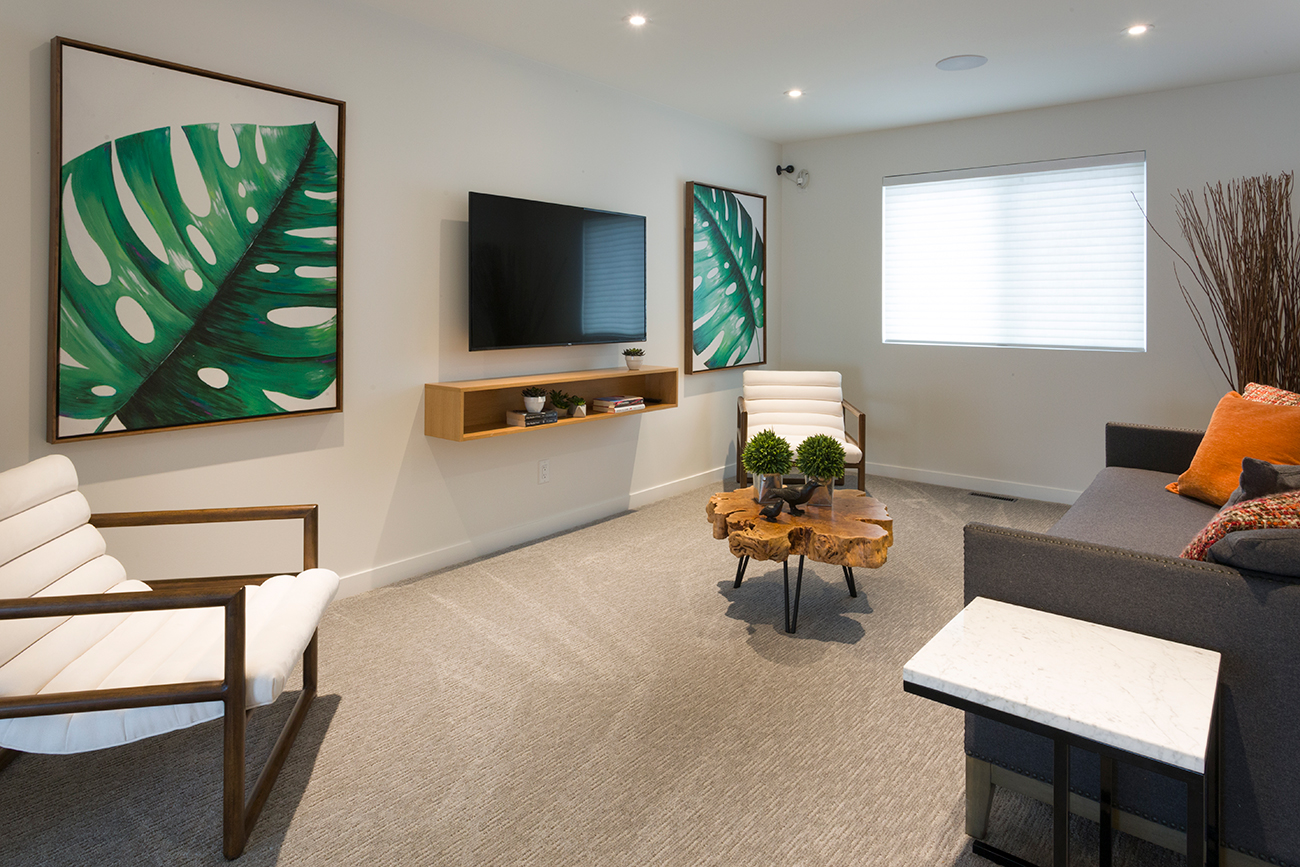 A second-floor deck off the dining area is an inviting outdoor space, with glass railing inserts to ensure an unobstructed view, and the deck doubles as a roof for a patio below.
Swan says Huntington Homes often adds a firepit with a brick surround in its backyards, but this one has a huge firebowl, measuring about a metre wide, on a stand-alone patio with bench seating. It's an elegant, and substantial addition to the artfully landscaped yard.