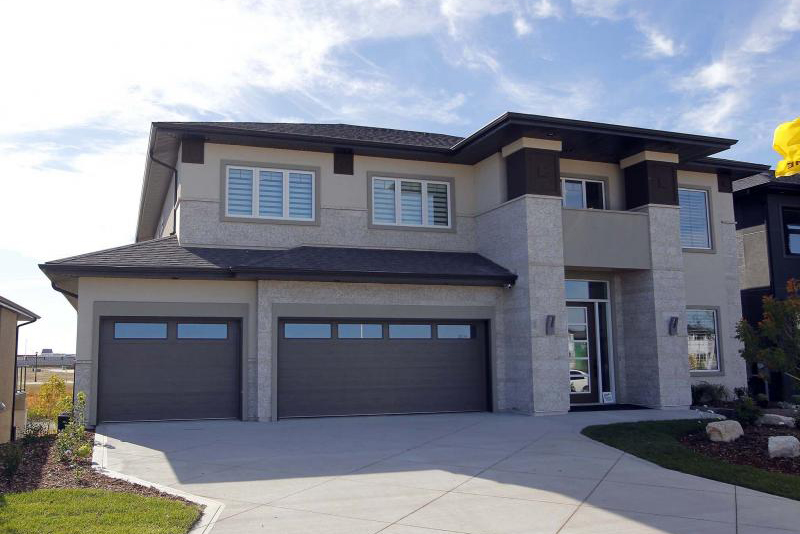 A Grand Feeling

Two-storey brings spectacular style to Fall Parade of Homes
Rob Swan of Huntington Homes says there's a singular purpose behind the design of 28 Willow Brook Rd.
"It's designed to grab your attention the moment you step inside," he says of the 3,311-square-foot, two-storey home, located in Bridgwater Lakes.
"It has a grand feel from start to finish."
That grand feel starts in the large tiled foyer with a soaring 20-foot-high ceiling. Add in several design touches and you have a foyer that sets the perfect tone — very stylish, yet also functional.
"First of all, we placed an office with a set of four stackable tempered glass doors with black (aluminium) framing to the right of the front door to increase the feeling of space as you enter the home," he notes. "The foyer then extends into a landing that provides access to three areas: the great room, upper-level staircase and lower-level staircase."
This is where the home's wow factor truly begins.
To preserve the open feel created by the generous foyer, Huntington's designers bordered the stairs with tempered glass. The two staircases were also set side-by-side to add function. Next, a six-foot-wide entrance with a nine-foot ceiling was placed between the landing and great room.
"The idea here was to frame the rear wall of windows in the family room," Swan says. "Thanks to a 20-foot-high ceiling, they virtually go from floor to ceiling, filling the rear wall. They're just the start. There's glass everywhere in the great room."
The result of all that glass — both the dining room to the rear of the kitchen and the four-season sunroom next to it are surrounded by large windows — is a light-filled, airy feel that makes the great room oh-so-livable. Serene wetland views are also showcased perfectly by all the huge, well-placed windows, while a patio door off the dining room leads to an elevated deck overlooking the water.
An intuitive layout makes the area even more livable, he says."The floor plan is integrated, blending all three spaces (kitchen, dining room, family room) seamlessly into an open-concept area that flows tremendously well. Yet, each space is distinct. "The kitchen is defined by a huge island that seats four with wide aisles either side, the dining room is cantilevered in its own area surrounded by glass and the floor-to-ceiling windows define the family room."
Meanwhile, the finishes are impeccable. Wide-plank engineered oak hardwoods nicely offset the great room's natural brightness with their warmth and texture, while two-tone cabinets (medium-brown rift oak/white, a white/grey herringbone backsplash and white/grey quartz countertops combine to create a look that strikes just the right balance between modern and classic themes.
Swan says he's particularly pleased with how the family room turned out. "It's got it all — the floor-to-ceiling windows let in all kinds of light and amazing wetland views, the 20-foot ceiling that gives it volume and a there's a gorgeous entertainment unit. Everyone who's visited during the Fall Parade of Homes has loved how the tile frames the TV niche and ribbon-style fireplace. Even though the TV niche is 75 inches, it fits because there's so much space."
Bordering the adjacent upper-level staircase with tempered glass panels was a stroke of design genius. Not only does it allow light from the family room's windows to flow freely upstairs, but it also serves another purpose.
"It allowed us to keep the area open from a visual standpoint," Swan says. "We then put in a sitting/TV area next to it. A pair of etched glass inserts let light filter in while maintaining privacy, while light pours in from the tempered glass panels that surround it. The elevated great room view is awesome and you can also look out onto the lake through the floor-to-ceiling windows on the family room's rear wall."
The home's upper level is then finished off with a floor plan that maximizes space and privacy. Both secondary bedrooms — which are huge and offer walk-in closets and huge windows — are set off down their own private hallway. A long second hallway — which contains the master suite and two other key spaces — then branches off in the opposite direction.
"We placed a four-piece bath and laundry room in the centre to separate the master suite from the other bedrooms," he says. "In particular, people love the laundry room. It's a big, functional space with washer/dryer area, sink, plenty of cabinet and counter space, shelving — and a pair of built-in hampers."
Then, there's the master suite, set off in all its secluded splendour.
"It's a bright, grand space with a bank of huge windows that provide a beautiful, elevated wetland view. The ensuite is a spa-like space with two-sided floating vanity, (six-foot) custom glass/tile shower and six-foot bubble jet soaker tub placed beneath a huge window. The walk-in closet is the size of a small bedroom and features gorgeous built-in walnut storage and floor-to-ceiling mirrors."
Another 1,715 sq. ft. of space then awaits downstairs in the walk-out basement: two big bedrooms with wetland views and walk-in closets, exercise room (with New York cityscape mural), media area with wet bar, patio door to a covered patio — and, of course, soothing wetland views.
"There are no disappointments in this home," Swan says. "Our goal was to build a spectacular yet functional home. I think we achieved it."
By Todd Lewys.
Previously published in Winnipeg Free Press, September 2017.
The upper-level staircase has tempered glass panels that allow light from the family room's windows to flow freely upstairs

View from upstairs with living area

The kitchen has an island

Master bathroom

Basement living area with walkout

Rob Swan of Huntington Homes. Sept. 11, 2017