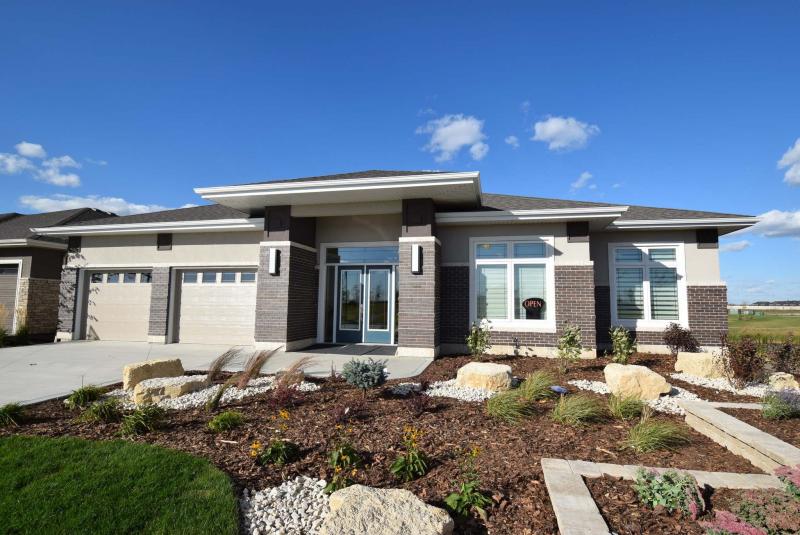 Fashion Meets Function

Huntington Homes' entry in the Fall Parade of Homes has received rave reviews for its sense of comfort
It's a sensation that doesn't often happen when you enter a home. That sensation? Feeling as if the home is as comfortable as a pair of well-worn shoes that fit perfectly because they fit every subtle contour of your feet.
Huntington Homes' frontman, Rob Swan says that 141 Rose Lake Court in Bridgwater Trails — a 2,499 sq. ft. bungalow with walk-out basement — has been drawing rave reviews during the 2016 Fall Parade of Homes. "The comment we hear most often from visitors is, 'it's so comfortable,'" he says. "It just has a sense of calming energy about it that makes everyone immediately feel at home."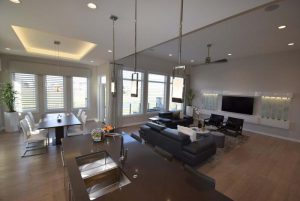 That's not surprising. The objective of Huntington Homes' design team was to create a home that featured great flow, spacious living areas and rich, well-placed finishes that blended together to create an interior that offered a perfect synergy of fashion and function.
That perfect blend of fashion and function starts in the foyer, Swan says. "It's a spectacular space that features a tray ceiling above, a double-door entrance with doors featuring glass centres, sidelights on either side and a transom window above," he says. "Light floods in, while a (24-inch) taupe tile floor defines it. It's also very wide and long, so there's plenty of room for guests to take their coats and shoes off without feeling boxed in."
Things just get better from there. Whereas many contemporary home great room designs are wide open, that's not the case with 141 Rose Lake. While the entrance to the area is wide, it isn't wide open. An extra-wide stairwell to the left with stainless steel railing and tempered glass inserts makes for a wide, welcoming feel. At the same time, a two-sided gas fireplace set in a stunning floor-to-ceiling, taupe tile stack elegantly limits visual access into the area.
All you can see is the wetland view through three huge windows on the family room's rear wall. That visual only serves to whet your appetite to see what the rest of the great room offers.
What you find is an intuitively designed area that, according to plan, offers exceptional flow, generous spaces, elegant, well-placed finishes and a serene ambience that encourages you to sit down and stay awhile. "A lot of people simply come in and sit down to take it in before looking through the rest of the home," Swan says. "I think the colour palette — it's comprised of an assortment of calming earth tones (off-whites, brown, beige, taupe) — is the reason for that."
Another reason is that the area is so functional and, hence, livable. Tons of natural light flows into the great room from the three windows in the family room, plus four that surround the dining area. Meanwhile, engineered oak hardwoods — thanks to their medium-brown hue — soften the light without sucking it all in, as dark hardwoods often do.
A 12-foot ceiling in the family room heightens an already profound sense of volume, while a 10-foot ceiling in the kitchen and dining area maintains the feeling of space, while creating a cozy feel.
The dining area, which is defined by a smashing tray ceiling with teardrop-style chandelier, has a solarium-like feel, being surrounded by the aforementioned four windows and patio door (which lead to a deck overlooking the wetlands behind the home).
Then, there's the adjacent island kitchen, which just beckons you to come in and create a gourmet dish or three. "Again, colouration plays a big part in its appeal," he says. "It features a combination of rift oak and off-white lacquer cabinets, taupe quartz countertops, a (light) taupe tile glass backsplash and a butler's pantry area at its rear with another sink. The integrated design creates a great room that's ideal for entertaining or just kicking back and relaxing with family."
Over on the other side of the home — the floor plan is essentially split into two distinct halves — is the bedroom wing. Its L-shaped hallway houses a gorgeous four-piece bath, two oversized secondary bedrooms (one with walk-in closet), a huge, centrally located laundry room and a palatial master suite set off in its own private area. "It has everything you'd want in a master suite," Swan says. "A bank of three windows on its rear wall lets in lots of light and provides a gorgeous wetland view, there's a huge walk-in closet with custom closet organizers — and an amazing ensuite with soaker tub, dual vanities with their own mirror set either side of a tempered glass partition, five-foot custom glass/tile shower and taupe tile floor."
Last but not least is the 1,800-sq.-ft. walk-out lower level, an area that finishes the home off in functional style with two more bedrooms (both with wetland views), rec room with games and media areas, solarium-like wet bar and exercise room (there's also an "express" laundry room situated next to the two bedrooms along with a four-piece bath).
"In total, you get a home that offers five bedrooms, four bathrooms and over 4,000 sq. ft. of livable space," he says.
"It's a well-rounded, innovative design that has it all — custom, quality finishes, impeccable design, scenic lake views and, most importantly, great function. We're extremely pleased with how the design turned out."
By Todd Lewys.
Previously published in Winnipeg Free Press, September 2016.