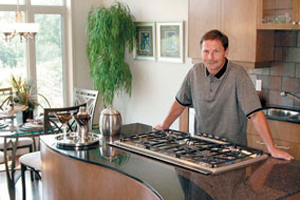 Not Unlike a Snowflake

Not unlike a snowflake on a Winnipeg winter day, no two homes by Huntington Homes are alike.
This is one of the major reasons why Huntington was a natural choice to be a preferred builder in Winnipeg's newest development, The Oaks, along the Assiniboine River west.
Huntington's team of engineers, designers and client support staff guide each client through a seamless design and construction process to ensure the prompt delivery of their own unique, custom built home.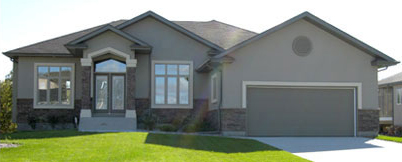 Founded by brothers Sheldon Swan and Rob Swan, Huntington Homes has been building in Winnipeg and the surrounding communities for nearly 20 years. In a typical year Huntington will deliver 20 to 25 unique, custom built
homes.
"One area that makes us different from other custom builders is our award-winning, in-house design service," says Rob Swan, VP Sales.
Every new home starts with a consultation with Huntington design staff, who gather design parameters from the client such as style, size and finish. Information is entered into Huntington's data base of hundreds of home designs which gives clients a good baseline to choose from. The clients then select the design features that closely match what they are looking for and create a unique design from there.
"The computer will automatically create a file of only theplans that meet the client's needs. From there, we assist them in choosing the best concept design as a starting point that will meet their design requirements", says Swan. "Starting with a concept plan, rather than from scratch, saves time, reduces plan development costs and ensures proper flow." Once the plan is complete, the client is provided with Computer Aided Design floor plans and 3-D renderings of their home, giving a concise visual of what the final product will look like.
Attention to every detail is the key in plans produced by Huntington. Experience has dictated that this attention at the planning stage is essential to a home that is built to the client's expectations, including the level of quality, the accuracy of the budget and the delivery of the final product in a timely manner. Huntington maintains a standard of quality that meets and exceeds The Oaks' architectural guidelines. Huntington has set the standards for custom residential construction specifications at an incredibly high level. Arguably the most technologically aggressive custom builder in the industry today, you will see names like Grohe and Kohler in the bathroom, Kichler on the light fixtures and Visions cabinetry in the kitchens, as Huntington's standard package. By including the caliber of finishes the client is expecting, from the start, budget overruns are virtually eliminated. "It is a lot more fun for our clients, because they are not running into unexpected costs of upgrades, as everything is included right from the onset", says Swan.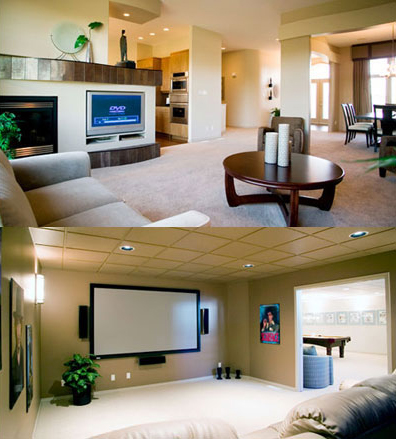 Huntington's higher standards include: building every home on piles, with an engineered wood structural basement floor; higher than typical basement ceilings; large basement windows; and a top-of-the-line high-efficiency Carrier Infinity heating and cooling system. This HVAC system has a built-in, programmable heat-recovery ventilator and operates at the height of efficiency, saving home owners an average of $60 to $70 per month over a typical high-efficiency furnace.
Huntington's design team will ensure that all home designs meet the community development guidelines created by the developer to ensure consistency of quality and character throughout. Bungalows will be a minimum of 1,600 sq. ft. and two storey homes will be a minimum of 2,000 sq. ft. The generous lots are about twice the size of typical city development lots, allowing more flexibility in terms of design options. Located just outside the Perimeter Highway, homes will have all of the city services including sewer and water.
"We are very excited about The Oaks. There have been few southwest developments in Winnipeg in the last number of years and this gives our clients a whole new realm of possibilities," Swan says.