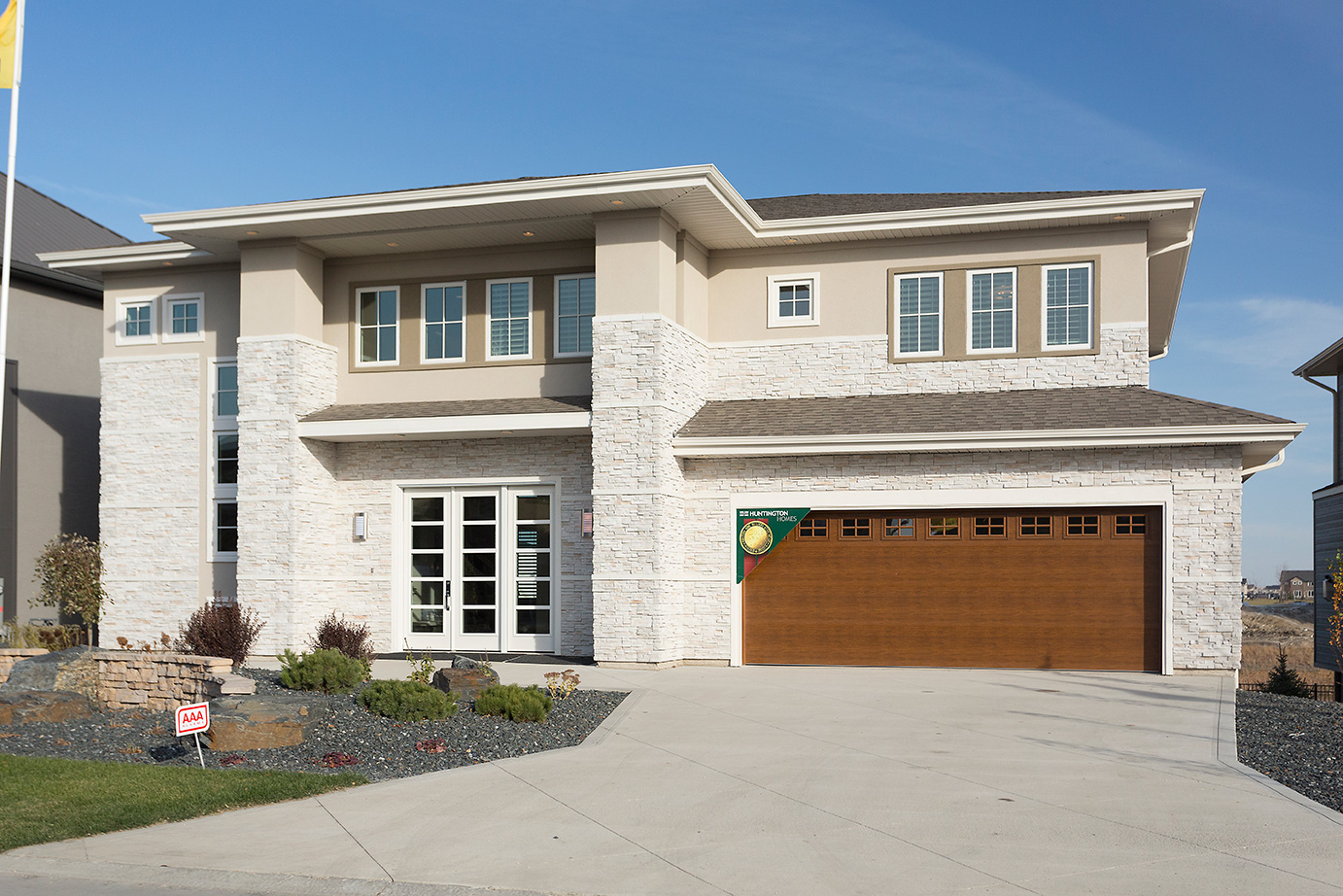 Perfect on Every Level

At Huntington Homes, the objective with every home they build is the same: to create an exciting, functional masterpiece.
As is the case with every masterpiece – in this instance, their show home at 130 Lake Bend Road in Bridgwater Lakes – nothing about the design is an accident. From start to finish, the design of the home is ultra-specific from the floor plan to the finishes – a Huntington standard.
"When people tour our show home, you can see their excitement about the functional layout and cutting-edge elements of style. The comment we hear all the time is, 'I wouldn't change a thing,'" says Rob Swan. "It's very rewarding to hear that, as this home is a product of years of research, experience and consumer feedback. It's a Gold Medal Winner that has been meticulously crafted down to the smallest detail."
This stunning yet practical home is a product of Huntington's three-part design / building system, one that's without peer in the homebuilding industry.
"First, the unique features, fabulous layout and Huntington's superior building specifications combine to result in an extraordinary home that will eliminate typical problems that occur as a result of the extremes of Winnipeg's weather conditions," Swan explains.
"Secondly, we've developed design and building systems that guide our clients through the building experience in a positive, rewarding fashion. Our goal is to make the building experience fun, while keeping it on time and on budget."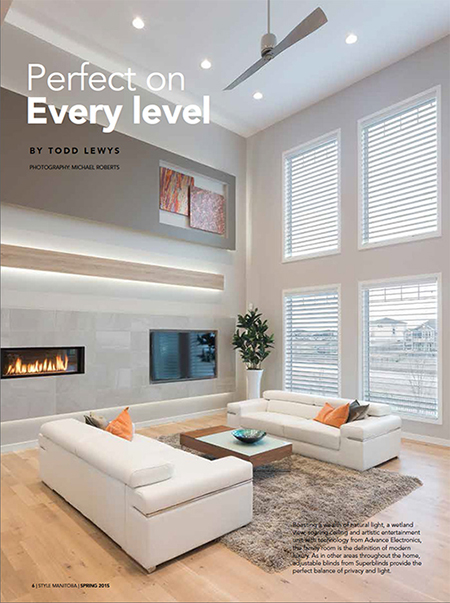 Boasting a wealth of natural light, a wetland view, soaring ceiling and artistic entertainment unit with technology from Advance Electronics, the family room is the definition of modern luxury. As in other areas throughout the home, adjustable blinds from Superblinds provide the perfect balance of privacy and light.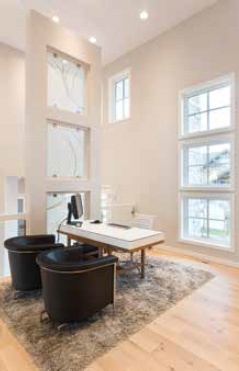 Situated on its own pedestal beneath a 20-foot ceiling – adjacent to a column-like wall featuring three etched glass panels (from Fort Rouge Glass) and three oversized piano windows behind – the elevated den was designed to be a calming, inspirational space.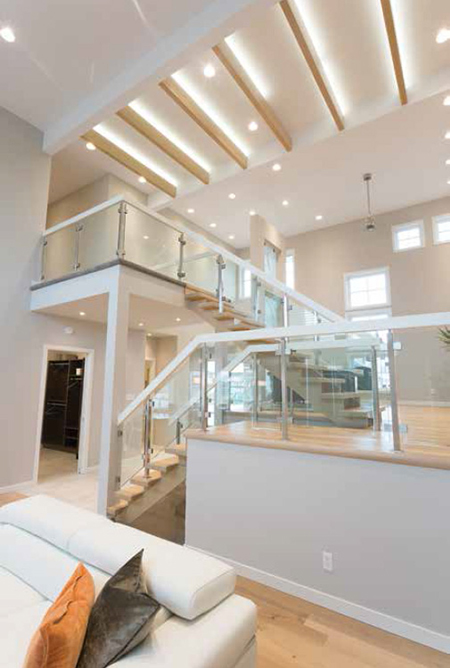 Access to the home's upper level is attained via a magnificent open-riser oak staircase that winds its way upward beneath six lit oak beams (from Winder Woodworks) that mimic it above. The staircase (also built by Winder Woodworks), features glass insert panels and stainless steel posts from SSG Notion, a division of Fort Rouge Glass.
The third dimension – which is actually the starting point – is leading-edge technology using highly-advanced CAD (Computer Aided Design software) which incorporates CAD libraries containing hundreds of design ideas and features, allowing clients to visualize designs and features that best suit their lifestyles and needs. Many of the latest ideas are showcased in Huntington's latest show home.
The design of Huntington's latest show home offering at 130 Lake Bend Road is brilliant. Lavish and extremely functional, this two-storey walkout strikes the perfect balance between fashion and function on each of its three levels.
"While fashion is undeniably paramount, the first priority is to create a layout where every room and feature of the home satisfies specific client needs and desires," says Swan.
"The overall layouts of the homes we design aren't general – they are totally customized designs that showcase particular design features in every room, features that go well beyond the floor plan itself," he explains. "Our homes are true custom designs in every respect – homes that are ultra-specific to the needs of our clients on a room-to-room basis. I think 130 Lake Bend does a great job of showcasing how we balance function and fashion throughout a home."
This home's spectacular yet practical design is evident the moment you set foot in the extra wide tiled foyer with its 20-foot ceiling. Your eyes are immediately drawn to a modern oak staircase with open risers that angles upwards in brisk, linear style between glass stairwell inserts and stainless posts.
At the same time, the soaring ceiling continues on the other side of a column-like wall featuring three etched glass panels, an artistic yet functional design feature. The staircase that takes you up to the elevated office is also a functional work of art.
"The open concept office was space placed by a collection of piano windows beneath a high ceiling, and is highlighted by a series of six gorgeous, open beams above," says Swan. "It's an area that was designed to provide a calming, inspirational atmosphere."
Meanwhile, the adjacent great room is a study in aesthetics and ergonomics. The high ceiling and collection of (six) floor-to-ceiling windows is the start of an alluring space that features a breathtaking wetland view. Gorgeous natural engineered oak hardwoods, a taupe tile entertainment unit, a large ribbon-style fireplace and a TV niche complete this voluminous yet intimate area that's ideal for visiting with company after dinner.
Adjacent is the semi-formal dining area, which has a sunroom-like feel with all of the large windows surrounding it; there's also loads of living room on all three sides.
"It's actually larger than most formal dining rooms," says Swan.
Last but certainly not least is the well-appointed chef's kitchen.
"It's a spacious, functional layout that won't disappoint even the most discriminating buyer – it's equal parts panache and practicality. Features like a built-in quartz table adjoins the island, and the butler's pantry that not only is a great prep space, but also allows you to bring groceries directly into the kitchen from the garage. With a wealth of beautiful, striated oak cabinets, and light and dark quartz countertops, it is an elegant, yet functional area," he states.
"Although these living spaces are segmented, they are seamlessly connected. This integrated design creates an area that's incredibly functional with great flow between rooms, yet spaces that are distinct at the same time," notes Swan.
Upstairs, the focus is one of liveability and luxury. The liveability is delivered in the form of two huge kids' bedrooms with walk-in closets.
Then there's the luxury embodied in a secluded master suite, set off down an eight-foot hallway that leads to its own serene world.
"We wanted to create a space that made you feel like you were going to the spa for the weekend, only you get to use it every day," explains Swan. "The wetland view and ribbon fireplace are just the beginning. The ensuite is your own private getaway with its freestanding bubble jet tub, seven-foot tempered glass shower, heated tile floor and floating vanity with huge mirrors for the dual vanity areas."
The open concept, walkout lower level offers another 1,522 square feet of functional elegantly appointed space, including a games area, media area, wet bar, and a sunroom / sitting area which is surrounded by large windows and leads to a covered patio. Completing this area is the large three-piece bath and exercise room.
Swan said the reason for being so specific in the design of each space – from the integrated great room to oversized, functional kids' bedrooms to the spa-like master suite and recreation-focused walkout basement – is simple.
"Focusing on each space and how they interact with the other rooms creates areas that are that much more inviting and functional. When a home's function is optimized throughout, life is so much easier because everything is exactly where you need it to be – the home will function exactly as you need it to."
Ultimately, the result of such a highly detailed design is a logically laid out, richly finished home that's built to the highest construction standards – a home that will stand the test of time in every area.
If you're serious about quality with exclusive content, visit Huntington Homes – the Masters of Modern Luxury.
By Todd Lewys. Photography: Michael Roberts
Previously published in Style Manitoba, March 2015.