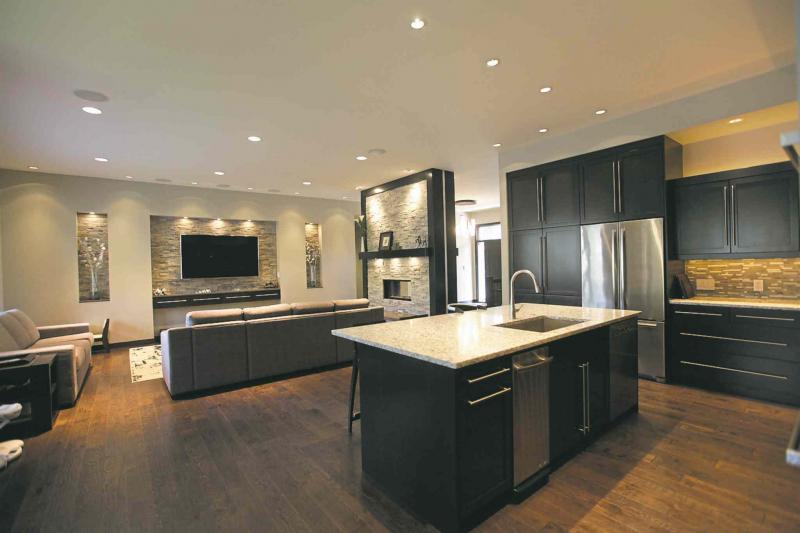 Tuxedo charmer built with purpose
Call it the perfect storm – for a homebuilder, that is.
It was by chance Rob Swan of Huntington Homes found the perfect infill lot, a 100-foot-wide by 130-foot-deep property at 216 Lamont Blvd. in old Tuxedo.
"I was just driving down the street, and there it was," he recalled. "It was a huge lot with an old, rundown home for sale on it. Once I saw it, I didn't waste any time. I bought it right away because it was such an awesome location."
Not only did the lot provide a perfect palette to build on – the location is also about as central as you can get – it had another advantage.
"It faced east on the front and west in the back, so you had ideal sunlight conditions – early morning sun and sunsets at night," said Swan. "The lot's depth also offered a good setback, so you'd not only be well back from the street but you'd also have a big backyard."
Not long after the acquisition of the property, a young couple came along looking to build a new home in an established area. Having built once before, they had definite ideas about what they wanted in a home.
After three months of collaborating on the design, the result was a sprawling, 2,490-square-foot bungalow that fit in with the traditionally-styled neighbourhood.
"With this design, there was a specific purpose to each room," said Swan. "Each room is much bigger than normal. We were able to build in the extra space because of the width of the home. It was great to work with a 100-foot-wide lot. With a wider lot, we were able to come up with a more flexible design, which allowed us to put things where the owners wanted them to be."
Because the owners recently started a family, the home's design centred around creating a functional, comfortable great room the family could spend hours on end in.
"This was a space we spent a lot of time designing," said Swan. "It's a large space that integrates the kitchen, dining area and family room all into one area where access to each space is seamless, yet each space is its own separate entity. I think the proportion is excellent. The kitchen's island is just the right size, the dining area is huge and there's tons of space in the family room."
The great room's focal point is a fireplace that is not only an artistic touch, but serves as a divider between the great room and foyer.
"Everything works together from materials to flow," he said. "Finishes like espresso maple cabinets, dark hand-scraped oak hardwoods, taupe quartz countertops and the area's focal point, a two-sided gas fireplace set in taupe cultured stone. It's an ideal spot to hang out as a family or to entertain in."
Two huge picture windows, one behind the dining area and the other behind the family room on the home's rear wall, let in light and provide a view of the home's huge backyard.
"We wanted there to be good interaction between the inside and outside, so we put in lots of glass on the rear wall and high ceilings to amplify the feeling of light and volume," said Swan.
The master suite is also a sight to behold, with a huge picture window.
"The ensuite is a spacious, bright and luxurious space with steam shower, heated (taupe) tile floor and floating maple vanity with dual sinks. There are also two walk-in closets, one in the ensuite and one off the bedroom with two windows set up high to let in more light."
For their part, the owners of the home couldn't be happier.
"The lot is perfect, and Rob and his team were great to work with. They worked with us to create a home that meets our every need," they said. "Everything turned out the way we hoped. It's a joy to live here."
Meanwhile, the great room is a study in style and ergonomics. Each area is exceptionally spacious and bright.
The family room, with its soaring ceiling, six floor-to-ceiling windows and tile entertainment unit (with ribbon-style fireplace and niche for 70-inch flat panel TV) is notable for its wetland view, space and modern finishes. Next door, the semi-formal dining area next to the kitchen is essentially a sunroom with five windows (plus balcony door) surrounding with space to easily hold a table for 10.
By Todd Lewys.
Previously published in Winnipeg Free Press, November 2014.